Water Damage Restoration in Clayton, Indiana
If you have experienced water damage in Clayton, Indiana, call the water damage experts at Twins Water Restoration right away! When standing water and even moisture are not quickly and fully removed, the chances of mold growth in your Clayton home are great. We've been providing comprehensive services to remediate Clayton water damage for over 11 years and are well-versed in eliminating mold and preventing bacteria growth from area homes and businesses.
---
---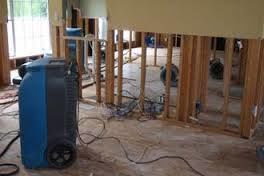 Here at Twins Water Restoration, we understand that accidents happen. A faucet was left running. A pipe burst. An appliance leaked. Whatever the cause, you're now dealing with unwanted water in Clayton. Water damage needs to be controlled immediately to prevent bigger problems such as mold growth, which could put your health at risk. If you are concerned about possible mold growth in Clayton the water damage experts at Twins Water Restoration will quickly assess the situation and devise a solid plan to get your property back to normal with quality restoration.
We Remediate Clayton Water Damage Issues
Twins Water Restoration offers the water damage restoration Clayton residents have trusted since 2011. We will completely and professionally restore your Clayton water damaged home or office with the highest quality materials available. We offer efficient removal of bacteria and mold spores. We always utilize environmentally-friendly sanitizing agents to neutralize unpleasant odors.
When you have water damage in your Clayton property, call (317) 268-2530 for quality restoration services.
---
Call for FREE Water Damage Restoration Quote
---
WHAT CUSTOMERS ARE SAYING:
5★★★★★ - "Looking for immediate help in removing and drying out our basement that had 4 inches of water throughout 3000 sq ft, I called several companies. Twins Water Restoration arrived the next morning. They were professional, knowledgeable, and reliable. They arrived on time and were at our home every day to monitor progress. When finished drying out, they applied material to kill and prevent mold and bacteria. They worked directly with my homeowner's insurance company to provide photos and documentation for our claim. My insurance company also commented, "they are very good to work with and provide a good value for the service they performed." Twins Water Restoration provided calmness, confidence, and peace of mind throughout the entire ordeal. I highly recommend Twins Water Restoration."

bob b

2021-08-23

5★★★★★ - "Very fast and professional I would highly recommend!!!!"

Steve

2020-11-30

5★★★★★ - "Very professional, on time and most importantly, they did everything right...highly recommended!!!!!"

Anonymous

2019-12-03